SIPez's End to End HD Voice and Wideband Audio Solutions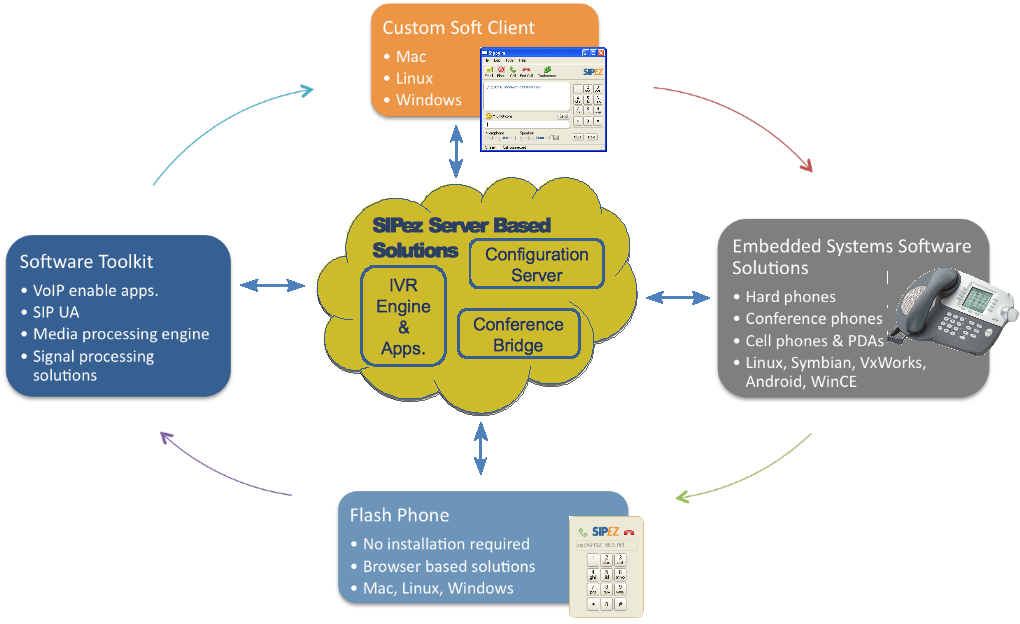 We have software solutions for your embedded hardware product as well as software application or server based products. Our solutions are very modular allowing you to incorporate only the capabilities you need to keep a small code footprint and minimal resource requirements. We have a OS independence layer that allows our solution to work on your operation system. We currently support most operating systems including: Linux, VxWorks, Windows, Mac OS X, WinCE, Solaris, Symbian and Android.
Android SIP Client Applications
SIPez can provide off-the-shelf or custom built Android SIP applications to fit your needs. Android SIP client application product sheet
Web Browser SIP Client
SIPez's ezF2SIP Flash phone enables SIP calls from standard web browsers on Windows, Mac OS X and Linux. See our ezF2SIP product sheet for more details.
Wideband and HD Voice Conference Bridge, IVR Engine and Applications
SIPez's ezIVR interactive voice response engine supports wideband and HD voice audio for the clearest quality and best communication possible for your conferencing and IVR applications. Use our standard IVR applications or let us customize our conference and IVR applicatiions to satisfy your needs. We can provide small scale single box solutions all the way up to large scale multi-host high availability solutions. See the ezIVR product sheet for details.
Audio Processing
Media Processing Engine
RTP/RTCP
Adaptive Dejitter
Packet Loss Concealment
Voice Activity Detection
Active Gain Control
Acoustic Echo Cancelation
Conference Bridge Mixing
Speaker Selection
Side-bar Conversations
Whisper Mixing
Plugable Codecs
Audio File Playout
Audio Buffer Record and Playout
Selective Recording
SIPez has a full featured audio processing subsystem including a RTP and RTCP stack. The audio processing subsystem supports plugin codecs, audio file streaming, echo cancelation, bridge mixer, stream recording, adaptive dejitter, lost packet reconstruction. The combined solution creates extremely high quality audio capabilities even in adverse network environments. Our audio processing solutions are suitable for embedded systems running on pure host processing or hybrid host processor and DSP platforms as well as pure software based solutions running standard operating systems. Our audio processing subsystem is used in commercial products from small scale embedded devices such as SIP phones to large scale products such as media servers and gateways.
Test Network Simulator
SIPez's Cumulus Network Simulator and tools provide the ablity to generate, capture and reproduce adverse network situations in which packet loss and delay diminish audio quality and reliablity. This tool is extremely useful for testing the effectiveness of audio quality improvements enabled by adaptive dejitter and packet loss compensation. SIPez can provide the tools or complete testing service of your product's performance under typical network behavior.
Hosted VoIP
SIPez has solutions to power next generation SIP hosted voice providers. If combined with our consulting services, we can provide a turn key solution.
Media & Conference Servers
We can provide enterprise class media servers to handle your interactive voice response (IVR) needs. Depending on requirements, solutions range from fixed implementations to open and flexible vxml based scripts.
SIP conference bridge functionality is also available. Please contact us with your port density needs.
PBX functionality
SIPez can help you leverage ready-made and tested PBX solutions for both server and embedded environments. We have experience building, customizing, and deploying solutions on embedded systems, Linux, Solaris, and Microsoft Windows.
Phones (Appliance & PC client) & Gateways
We have proven solutions for SIP end points. Whether you are building hard phone appliances, soft phones, SIP to PSTN gateways, terminal adaptors, media and IVR servers or conference bridges, we have the software components and complete solutions you need to rapidly develop and deploy your product. Our solutions are well tested and provide you with the highest level of interoperablity availble on the market. Because we leverage open source our solutions are also the most economical as well. By reducing the cost of the core VoIP functionality, we enable you to focus your efforts on your value added product differentiation. Our solutions include capabilities for:
Call Processing
Media Processing
Conference Bridging
IM
REFER based blind and consultative transfer
STUN and ICE based NAT traversal
Third Party Call Control
Presense Clients & Servers
Proxy Servers
SIPez has fully functional SIP Proxies, Registrar and Redirect servers that are highly configurable as is. These servers are also easily extended to provide applicaition specific features through plugin APIs. SIPez can customize these servers or repackage them for OEM solutions. These servers have been tested and proven to be RFC 3261 compliant and highly interablerable through SIPit and other test events.
SIP Stacks
SIPez has experience with and can provide open source SIP stacks such as JAIN SIP, reSIProcate, and sipX stack for your platform. We can help you understand how to apply these SIP stacks or your preferred commercial stack. We understand the capabilities and weakness of the leading SIP stacks and can help you decide which is best for your application. We can also provide design and development skills to implement your required SIP capabilies for your product or application.